12 Oct

Tulsa Business Lawyer | Gary Crews
Tulsa Business Lawyer 
A Tulsa Business Lawyer has expertise in many different areas of law taught in both law school and business school. These areas of expertise include contracts, the law of corporations and other business organizations, securities law, intellectual property, anti-trust, secured transactions, commercial paper, income tax, pension and benefits, trust and estates, immigration law, labor law, employment law and bankruptcy. It is a branch of law that examines topics that impact the operation of businesses and corporations. Business law is also commonly referred to as a corporate law. Which is the branch of law that examines the nature, creation and operation of legally incorporated businesses. 
The Job of a Tulsa Business Lawyer 
It's the job of a tossup business lawyer to act as the governing body two businesses rights, relations, and conduct of persons, companies, organizations and businesses. Business law often describes the law relating to matters which derive directly from the lifecycle of corporations. Meaning, it encompasses the formation, funding, governance, and death of businesses. A Tulsa Business Lawyer regulates how corporations, investors, shareholders, directors, employees, creditors, and other stakeholders such as consumers, the community, and the environment interact with one another. While business law is often intertwined with commercial law, it is important to remember that it involves a much wider concept. Meaning, the law relating to commercial or business-related activities. 
Tulsa Business Lawyer and Litigation 
Members of a company generally have rights against each other and against the company, framed under the company's constitution. But members cannot generally claim against a third parties who caused damage to the company which results in a diminution in the value of their shares and other membership interest because this is treated as reflective loss and the loss normally regards to the company as the proper claimant in such cases. Minor shareholders usually have to except that they cannot direct the overall control of the company and must except the will of the majority. However, majority rule can be iniquitous, particularly when there is one controlling shareholder. Meaning, a number of exemptions have developed in law in relation to the general principle of majority rule. For assistance on how to move about a litigation, contact eight Tulsa Business Lawyer today. 
Tulsa Business Lawyer and Corporate Finance 
Through the operational life of a business or corporation, the most crucial aspect of corporate law relates to raising capital for the business to operate. The law, as a relates to corporate finance, not only provides the framework for which a Business raises funds but also provide a forum for principles and policies which drive the fundraising. This is a very serious task that must be taken as such. Two primary methods of financing exist with regard to corporate financing. Those are equity financing and debate financing. Each has relative advantages in disadvantages, both at law and economically. There are other methods of raising capital necessary to finance its operations. The other method is retained profit. Various combinations of financing structures have the capacity to produce fine-tune transactions using the advantages of each form of financing. For more information on methods of financing, contact A Tulsa Business Lawyer today. 
Tulsa Business Lawyer and Contract Law 
It also business lawyer is an expert in contract law. Usually a contract forms when one person makes an offer and another person excepted by performing the office terms were communicating their approval. Meaning, if the terms are certain, and the two people can be presumed from their behavior and actions to have intended that the terms are binding, then the agreement is generally enforceable. Some contracts, such as sale of land, or other particularly large transactions, also require the formalities of signatures and witnesses. English contract law requires all people, known as parties, to bring something of value to Oregon as a precondition to enforce the contract. The terms in a contractual agreement or Inc. through definitive promises by reference to other terms or through a course of dealing between two people. English contract law, which a possible business lawyer has experience in, and I was plenty of freedom for people to agree to the terms and content of a deal. Contract law is at its best when an agreement as performed and resorting to the courts is never needed because each party knows their rights and duties. For help with contract law, contact a Tulsa Business Lawyer. 
Tulsa Business Lawyer | Gary Crews 
Gary W. Crews, Esq. obtained a bachelor's degree in administration from Auburn University and a juris doctorate from the University of Tulsa.  He was admitted to the Oklahoma Bar Association in 1990 and is a sole practitioner with his primary focus on probate, estate planning, business, oil & gas law and elder law.   
His experience in probate and estate planning allows him to provide you with the tools you need to establish a solid estate plan or navigate through the complicated probate process.  
Gary Crews | A Tulsa Business Lawyer 
When you choose Gary W. Crews, PLLC as your corporate lawyer, you have a strong partner supporting you.  As one of the top business attorneys in Tulsa, we take the time to learn your business' priorities and goals and help form strategies that help you succeed. 
ENTITIES – We represent clients in a wide array of business planning and transactions, including corporations, limited liability companies and partnerships. Our practice represents closely held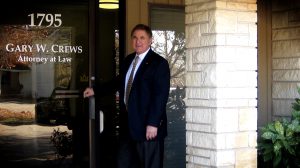 business entities, joint ventures comprised of local, regional or national businesses, investors, developers and entrepreneurs. 
NOT FOR PROFIT – Our experience with Not-For-Profit corporations includes: forming the company, creating by-laws, obtaining a federal ID number and filing for Tax Exempt status with the IRS, and conducting board meetings. 
TRANSACTIONS – We can draft any type of business agreement that you require including Real Estate Contracts, Employment Agreement, Consulting Agreements, License Agreements, Buy-Sell Agreements, Operating Agreements, and By-Laws. 
For more information on the Tulsa Business Lawyer , contact Gary Crews here.