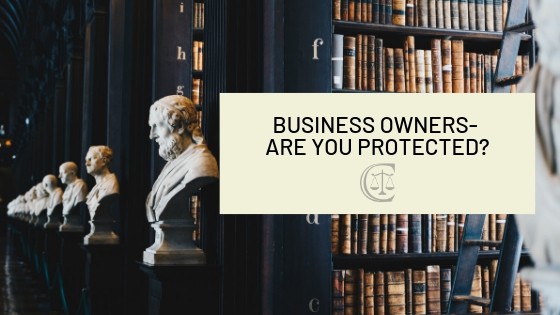 25 Apr

Business Owners- Are You Protected?

Business owners have a tendency to understand the immediate needs to starting and operating a business, such as guaranteeing an office space, ensuring payroll is operating efficiently, etc. Many business owners have a tendency to forgo having a business attorney until an unfortunate situation arises. A well-prepared business owner understands the importance of working with a business attorney in order to counsel them regarding potential problems that their business may confront later down the road.

Business attorneys do far more than simply join you in court if the need ever arises. They are available to help you negotiate the best terms for your business in regards to everyday business decisions such as purchasing, leasing, and staff contracts. Having a strong relationship with your business attorney is fundamental to the growth of your business. 

Here at Gary Crews Law, we are here to protect your business and guide you through the maze of legal issues. As technology changes the way business operates, we have taken pride in our ability to adapt through strategic relationships with companies that understand the potential issues that business owners may face online. That is why we have enlisted the help from a local media company, McWilliams Media. Our inbox is loaded with emails that promise to "get us to the top of Google." McWilliams Media just touched on how to protect yourself from the online spam you get in your inboxes. They laid out a few simple steps to recognize spam:
Unsolicited emails and/or comments left on your website

Consider the email address

Research their company

Requesting private information too soon.
To see the full article, click HERE
When it comes to protecting your business, we are here to help and point you in the right direction for a bright future in your business venues.
You don't have to be in it alone. Contact us today to schedule a FREE consultation.
Contact Information:
Email: gcrews@att.net
Phone: (918) 493-3360
Fax: (918) 493-2203