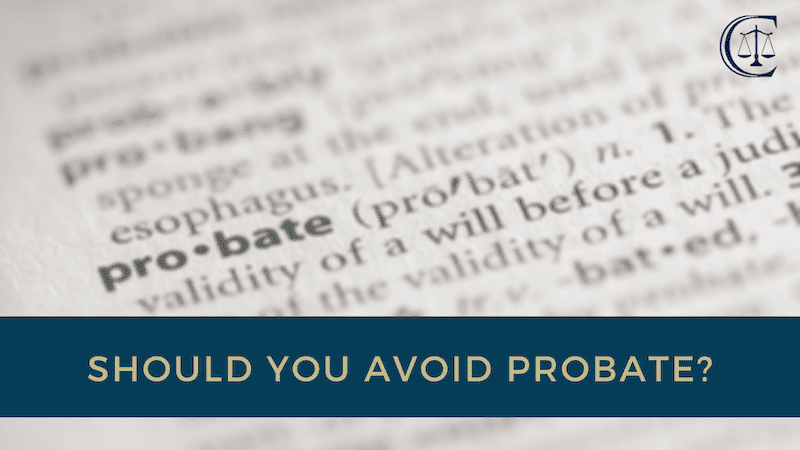 22 Mar

Should You Avoid Probate?

At Gary Crews Law, we handle a wide range of legal matters including estate planning and probate. We take great pride in guiding our clients through the process of creating an estate plan that ensures that their wishes are fulfilled upon their passing. Our team also walks alongside individuals who are navigating the incredibly trying process of grieving the death of a loved one while addressing necessary legal matters. 

Most of our clients have little knowledge about the probate process until they find themselves in the middle of it. In this blog, we will take a few moments to educate you on the probate process and share why we believe it should be avoided when possible. 
What is Probate?
Probate is the court-supervised legal process through which an individual (Personal Representative) administers the transfer of the Decedents assets upon their death. During probate, the validity of a Will is determined through an interview and then distribution to the designated beneficiaries. This process includes settling the outstanding debts of the deceased and tying up any loose ends that remain upon their passing. 
As you can imagine, probate can be a complex process, especially in the event where an existing estate plan is lacking. Because of this, you must work with an experienced probate attorney to ensure an efficient and accurate probate process. 
Reasons to Avoid Probate
You may assume that all cases go through probate during the process of settling the affairs of the deceased. While all Wills go through probate, there are ways to avoid the probate process entirely. Here are some of the reasons we believe you should avoid probate if possible:
Probate Takes Time
After experiencing the death of a loved one, there are many things that you must address. With so many logistics to sort through, little time is left to work through the emotional aspects of the process. Unfortunately, the probate process is a court-supervised process and can take a considerable amount of time to complete. 
While we work to expedite the process, several aspects are outside of our control. You may find yourself working through probate for several months, forcing you to dwell in the pain of the past. Additionally, this will inevitably delay the distribution of the inheritance of the designated beneficiaries.
Probate is a Public Process
Many individuals are also concerned about the public nature of probate. Because probate is a public process, the distribution of the estate's assets will become public record. If you prefer to keep your financial affairs private, it is best to avoid probate.
How to Avoid Probate
While there are situations where probate is necessary, there are ways to avoid probate. The best way to avoid eventual probate is to consider a Living Revocable Trust. This is an important part of the estate planning process that allows you to bypass the probate of your estate upon your passing. 
Whether you are looking to plan for your future and protect your loved ones from the probate process, or you find yourself in the middle of the probate process, our team is ready to assist you!