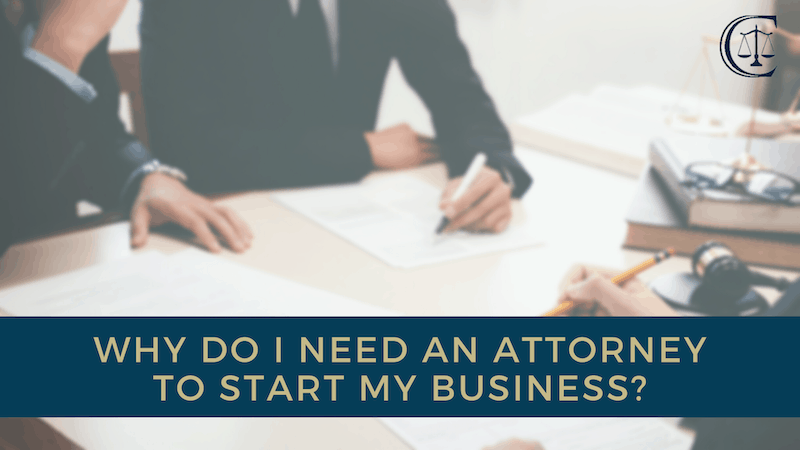 18 Feb

Why Do I Need an Attorney to Start My Business?

Far too often, entrepreneurs overlook the legal aspects of forming their new business. Distracted by the many other things required to get their dream off the ground, they neglect the very thing that will set their business up for success. But with so much information readily available online, many new business owners wonder why they need to hire an attorney as they start their business.

There are many reasons to partner with a business attorney as you start your business. The most important being that failing to launch your business properly from a legal standpoint will only create problems in the future. With the direction and oversight of an experienced attorney, your business will be established for success from the start.
How Does a Business Attorney Help Entrepreneurs?
So, how exactly do I help clients start their business from a legal standpoint? As you are establishing an LLC, there are several tasks you must accomplish before you complete your first business transaction. At Gary Crews Law, we walk you through the process to ensure that no detail falls through the cracks during this process. 
A few of the ways we partner with aspiring business owners as they launch their business include the following:
Preparing & Filing Articles of Organization with the Oklahoma Secretary of State

Drafting the Operating Agreement, Including Any Buy-Sell Issues

Obtaining a Federal ID Number From the IRS

Conducting the Organizational Meeting & Creating Minutes of the Meeting

Reviewing & Negotiating Leases
Creating Consulting or Employment Agreements
You must complete these tasks accurately and efficiently to ensure that your business is legal in the eyes of the state of Oklahoma. As most business owners have little experience with processes such as these, it can quickly become overwhelming and time-consuming.
Partnering with a business attorney ensures accuracy throughout these formational processes, allowing you to launch your business on time! 
Establish a Relationship with Your Business Attorney 
As a business owner, there will likely come a time when you need legal representation or assistance. Whether for a small issue or a large dispute, it is to your advantage to have an existing relationship with your business attorney. Working with an attorney from the formation of your business ensures that you minimize potential legal matters. However, it also provides your business with excellent protection should a legal matter arise down the road.
Avoid Unnecessary Work & Prevent Compliance Issues
As you launch your business, it is easy to get stuck in the mindset of the legal requirements for the current state of your business, not your future needs. However, this lack of planning can result in large amounts of unnecessary work as you reformat your business down the road. As your business begins to become more successful, you may run the risk of compliance issues due to improper documentation or paperwork.
A business attorney will help you foresee the legal needs of your growing business. This will prevent both unnecessary work and compliance issues. With the proper documentation and paperwork in place, you are better able to pursue your dreams through your new business! 
At Gary Crews Law, we are passionate about partnering with new business owners to get their dreams off the ground. Learn more about how a business attorney can help your latest business venture here!