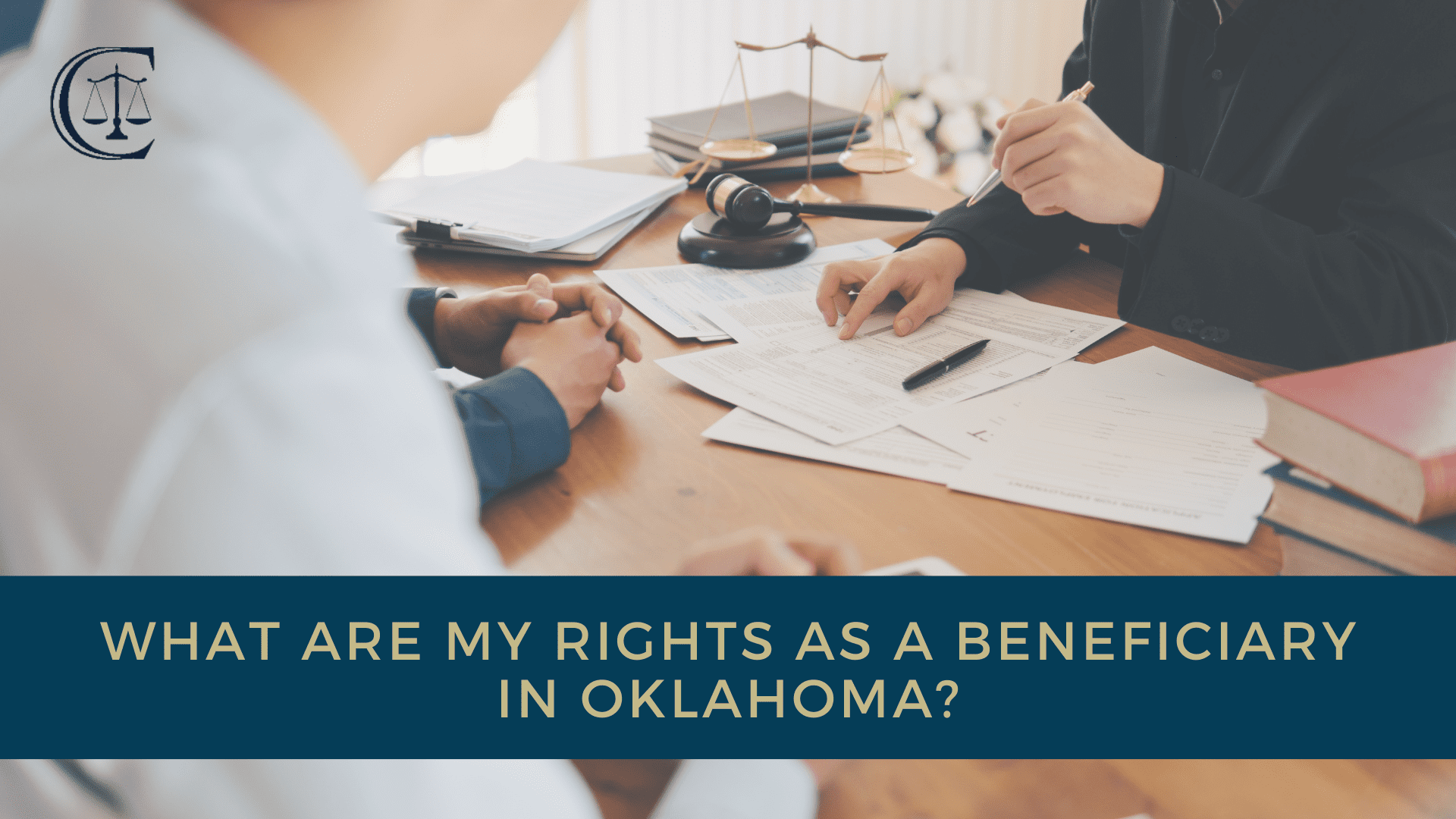 19 Apr

What Are My Rights As a Beneficiary In Oklahoma?

Beneficiary rights are an important topic for anyone who has a will, trust, or other estate planning documents, as well as for those who will benefit from those documents. In Oklahoma, the law requires that the beneficiary of an estate receive a certain amount of protection under its laws.

In this blog post, we will discuss what a beneficiary is, Oklahoma beneficiary rights, and how you can ensure your beneficiary rights are protected.
What Is a Beneficiary?
A beneficiary is someone who will receive financial benefits from a person's estate after they die. Beneficiaries can be individuals or organizations, such as charities, churches, or foundations. It is important for beneficiaries to know their rights, as the law grants them some special protections.
Oklahoma Beneficiary Rights
In Oklahoma, the law requires that a beneficiary's rights be protected in four specific areas:
1. The Right to Receive Notice
Once a probate is started, beneficiaries must be notified of the action taken and they have the option to participate in the probate process to ensure that they can take steps to protect their rights if necessary.
2. The Right to Receive All Beneficial Interests
Beneficiaries have a right to receive all beneficial interests in an estate, such as property, money, stocks, and bonds. The executor of the estate must make sure all beneficiaries receive their full share of the estate.
3. Right to Contest Decisions
Beneficiaries have a right to object to any decisions made regarding the estate that they do not agree with.
The executor has an obligation to respond to objections in a timely manner and must ensure that the decisions are fair and equitable for all beneficiaries.  However, some wills punish beneficiaries that are unsuccessful in their objection.
4. The Right to Sue for Breach of Fiduciary Duty
In some cases, if a fiduciary (executor or trustee) breaches their duty to the estate, a beneficiary may have the right to sue them for damages. This includes any breach of trust, such as mismanaging assets or not following the instructions of the will.
How to Ensure Your Beneficiary Rights Are Protected
It is important for beneficiaries to ensure that their rights are respected and protected by the executor of an estate. Here are a few tips for making sure your beneficiary rights are protected:
Make sure you understand the terms of the will or trust and any related documents.
Request copies of all documents related to the estate, including wills, trusts, and other legal papers.
Review all financial statements and make sure you are receiving your full share of the estate.
Make sure that the executor is following the instructions in the will and adhering to the law.
Seek legal advice if you have any questions or concerns about your rights as a beneficiary.
As an estate planning lawyer in Tulsa, Gary Crews Law is passionate about helping beneficiaries understand and protect their rights.
If you have any questions about your beneficiary rights, or if you need help with an estate plan, please don't hesitate to contact us for a consultation. We are here to help!