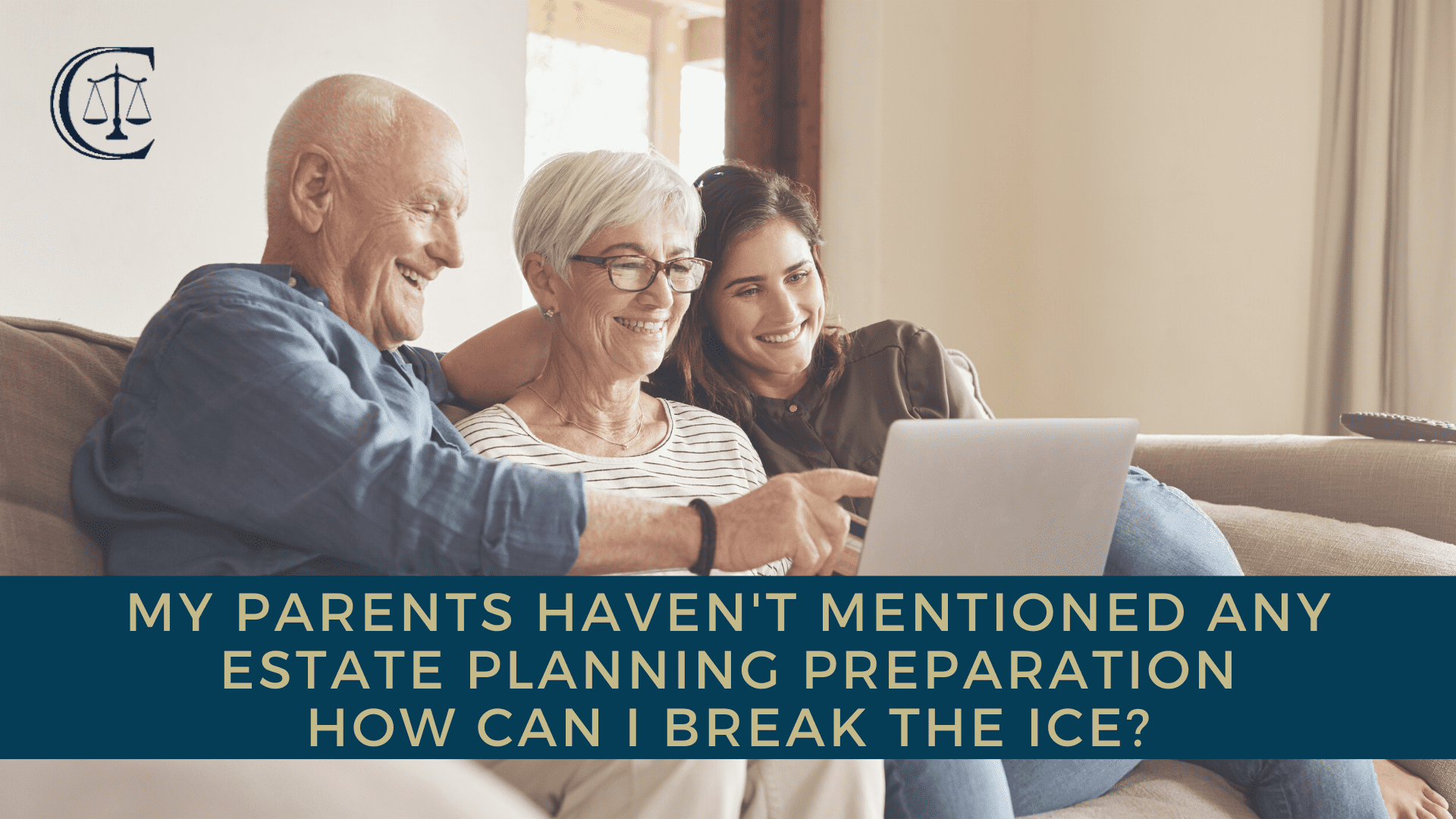 17 Jan

My Parents Haven't Mentioned Any Estate Planning Preparation. How Can I Break the Ice?

When it comes to estate planning, it can be a tough conversation to have with your parents. It's natural to want to avoid discussing something as intimidating and potentially emotional as death, but the reality is that having an effective estate plan in place is important for ensuring your family's financial stability in the event of illness or death.

In this blog post, we will cover the basics of estate planning and provide you with some tips on how to have an open, honest conversation with your parents about this important topic.
What is Estate Planning?
Estate planning is the process of organizing your assets and legal documents so that they can be passed on to your family in an organized manner. This includes wills, trusts, powers of attorney, and health care directives.
Types of Estate Planning
When it comes to estate planning, several different types of documents can be used. Wills are the most basic and direct way to pass on your assets after death.
Trusts allow you to set specific conditions for how and when your assets will be distributed. Powers of attorney give someone else the legal authority to make decisions on your behalf if you are unable to do so.
Health care directives allow you to specify how medical decisions should be made if you become incapacitated.
The Importance of Estate Planning
Estate planning is essential for ensuring the financial security of your family after you pass away. Without a proper plan in place, assets may not be distributed as you desire and legal proceedings could be confused or delayed.
It also helps to protect your family from potential disputes over inheritances, which can be emotionally and financially draining. Estate planning also allows you to address any special needs that may arise in the future by setting up trust funds and other arrangements ahead of time.
When to Have Estate Planning Conversations With Your Parents
It's important to start the conversation about estate planning with your parents as soon as possible, even if they are in good health. This ensures that their wishes and intentions will be properly documented and honored.
Additionally, it's important to understand that estate planning is an ongoing process and should be reviewed periodically as life circumstances change.
Questions to Ask Your Parents Regarding Estate Planning
When having conversations with your parents about estate planning, it's important to ask specific questions to ensure that their wishes are adequately addressed. Some key questions you may want to consider asking include:
What type of estate planning documents do you already have in place?
Who would you like to serve as executor of your estate?
What specific instructions or conditions would you like to put in place regarding the distribution of assets after death?
Are there any special needs that should be considered when making plans for your estate?
Do you have any questions or concerns about the estate planning process?
By asking these questions, you can help your parents start to think through their estate planning needs and begin to create a plan that will ensure their wishes are honored.
Having this conversation with your parents may seem intimidating at first, but it is an important step in ensuring their financial stability in the future.
With a little preparation and an open mind, you can have a productive and meaningful conversation about estate planning that will benefit your family for years to come. If you have further questions about how to begin the estate planning process, please contact our team!