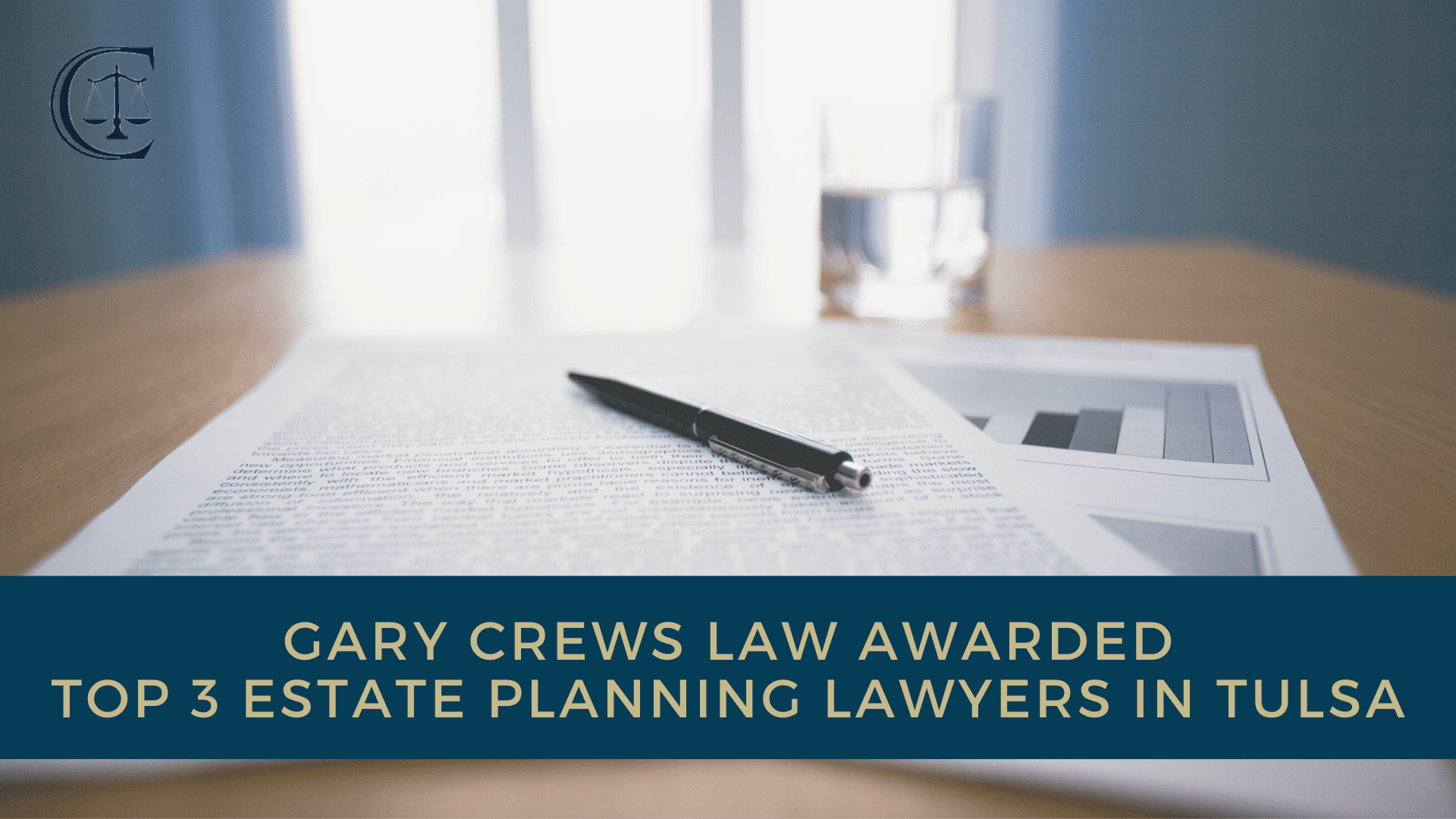 20 Feb

Gary Crews Law Awarded Top 3 Estate Planning Lawyers in Tulsa

At Gary Crews Law, we are proud to provide our clients with personalized, individualized service that is tailored to their specific legal needs. We understand the importance of getting results and strive to ensure our clients have the strongest possible case or transaction on their side when they come to us for assistance.

Although we don't do what we do for recognition or accolades, we are proud of the fact that both our clients and our peers have repeatedly recognized us for our excellent legal services.

We take great pride in the trust and confidence our clients place in us and we strive to exceed their expectations.
Gary Crews Law Recognized As Top 3 Estate Planning Lawyers in Tulsa
We are proud to once again announce that we have been awarded the highest possible rating in both legal and ethical standards due to our unique approach and experience.
For the fifth year in a row, Gary Crews Law has been selected for the Top 3 Estate Planning Lawyers in Tulsa award!
Additionally, Gary Crews Law is rated "AV Prominent" by Martindale-Hubbell which reflects the highest possible rating in both legal ability and ethical standards for 2023 for the 10th year in a row.
This recognition fuels our passion for excellence as we continue to provide our estate planning services to our past clients and the Tulsa community as a whole.
Working With Gary Crews Law
At Gary Crews Law, we do not take our role in your estate planning lightly. Each member of our team understands the importance of working with you to ensure that your final wishes are honored and expressed in a clear, legal document.
We will work closely with you so that we can understand the details of your estate plan, including your goals and objectives for the future.
Our experienced team can provide guidance throughout the process and answer any questions you may have to ensure that your plan is comprehensive enough to meet all of your needs.
If you are ready to get started on organizing your estate, we invite you to contact our office and schedule an appointment with our team today! We are committed to helping you achieve the peace of mind that comes along with having a safe, secure, and organized estate.
We are proud to serve the Tulsa community and look forward to helping you plan for your future. From all of us at Gary Crews Law, thank you for another truly great year!