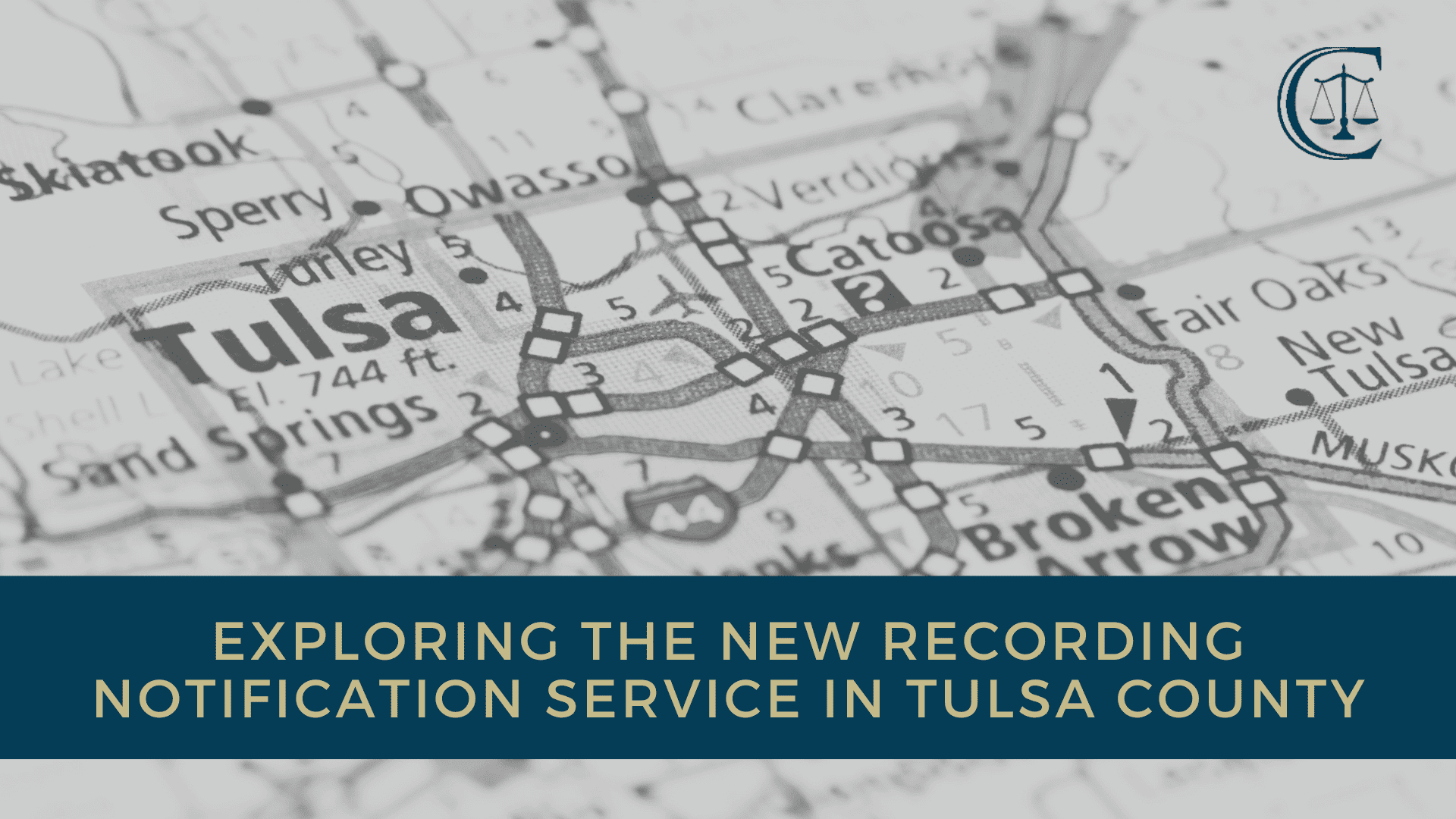 19 Sep

Exploring the New Recording Notification Service in Tulsa County

In today's digital age, advancements in technology have significantly improved the way we access and manage important documents and records. 

Tulsa County, Oklahoma, is no exception to this trend, as it introduced its innovative Recording Notification Service. This service notifies citizens when a document is recorded that includes their name or property information. One of the main goals of this service is to combat fraudulent activities.

In this blog post, we will take a look at the intricacies of this new service including its features, benefits, and how it aims to enhance the overall land record management system.
Understanding the Importance of Land Records
Before we dive into the Recording Notification Service, let's first understand the significance of land records. Land records are vital documents that contain information about property ownership, transfers, mortgages, and liens. 
These records play a pivotal role in property transactions, legal proceedings, and ensuring property rights are protected.
Introducing the Recording Notification Service
The Recording Notification Service is a revolutionary addition to Tulsa County's land record management system. This service is designed to simplify the process of accessing and tracking land records, making it easier for both professionals and the general public.
The Recording Notification Service offers users real-time notifications whenever there is a new recording related to their properties or areas of interest.
Although this is simply a notification service, using the Recording Notification Service can help property owners prevent fraud through timely notifications of potentially fraudulent filings. 
How to Get Started
Getting started with the Recording Notification Service is a straightforward process:
Conclusion
In conclusion, the Recording Notification Service offered through the Tulsa County Clerk's Office is a remarkable leap forward in the world of property management and record keeping. Its real-time updates make it an invaluable tool for anyone involved in real estate or property-related matters. 
By embracing technology, Tulsa County has taken a giant step towards improving efficiency, transparency, and accessibility in land record management. 
If you have further questions regarding the new Recording Notification Service available through the Tulsa County Clerk's Office, visit their FAQ page.
As a property owner in Tulsa County, it is advisable to collaborate with a qualified lawyer to safeguard your best interests. Legal counsel can provide invaluable assistance in matters such as property transactions, contracts, disputes, and ensuring that your rights are protected. 
Whether you're buying, selling, or dealing with any legal aspects related to your property, having a knowledgeable attorney by your side can offer peace of mind and help navigate the complex legal landscape of real estate in Tulsa County. 
At Gary Crews Law, we are passionate about helping our clients make informed decisions and ensuring that your property-related transactions are conducted smoothly and in compliance with the law. Contact our team to learn more!