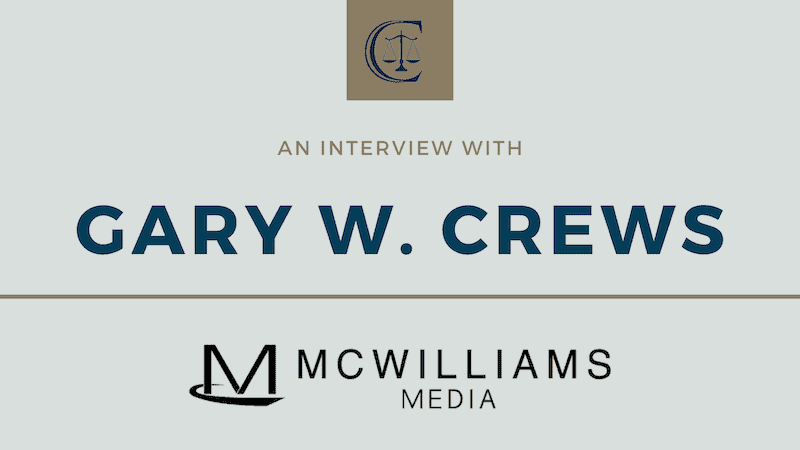 17 Aug

An Interview with McWilliams Media

In today's blog post, Gary takes a minute to chat with local business owners, Matt and Lindsay McWilliams of McWilliams Media. Keep reading to learn more about how we partner with businesses like McWilliams Media to help protect their best interests as they continue to grow.

McWilliams Media has helped us with website design, search engine optimization, and a number of other services that have attracted countless new clients. We greatly appreciate their expertise in these areas.
Learn More About McWilliams Media
Gary: Tell us a little bit about your company.
Lindsay: McWilliams Media specializes in building websites and offering digital marketing services such as SEO (Search Engine Optimization), social media posting, digital newsletters, content writing, and graphic design.
Gary: Who would you say is your target audience?
Matt: Our target client is a small business owner that has 1-10 employees. A large number of our clients fall into the following categories: 1. Medical (dental, chiropractor, etc.), 2. Law, 3. Non-Profit, 4. Professional Trades (pest control, roofers, plumbers, etc).
Gary: How long have you been in business?
Lindsay: We started our company in 2011. Nine years later, we are still going strong!
Gary: What differentiates you from your competitors?
Matt: We value the relationships we build with our clients. The vision our clients have for their business is unique and personal to them. Therefore, nothing we do is cookie cutter. We take a personal approach to every project and don't stop until the client is happy with the end result.
Gary: What has been the biggest impact of COVID-19 on your business?
Lindsay: We haven't experienced any negative impact since COVID-19. In fact, it's been quite the opposite! We have grown tremendously and have added team members, clients, and more efficient ways of communication with both.
Gary: It's been said that smart people learn from their mistakes and wise people learn from the mistakes of others. What have you learned along the way and how can other entrepreneurs learn from your experience?
Matt: For one, we are always relieved that when an issue arises, we can say, "it was in the contract!". Thanks to Gary Crews, we have a contract that we built through the years that continues to grow with us. When we encounter a problem we make sure that the issue will be covered in the contract and that we are legally covered if a similar issue happens again.
We have also learned that not every client is a good fit for us. We know our target client and we're not afraid to refer an individual to another company if we know we won't be a good long-term fit.
Gary: What has been most inspiring to you?
Lindsay: We are part of a great networking group. That has been a great place for us to learn, grow, and be encouraged by fellow entrepreneurs and business owners.
Gary: How has our law firm helped you implement your business plan?
Matt: Gary Crews has helped us with our contracts, been there to answer the questions that are out of our league, and has always been available when anything arises. It's so comforting to know that we have someone in our corner when it comes to legal matters.
Gary: How can people contact you?
Lindsay: Our friendly staff is just a phone call away at (918) 286-4995! We always offer free consultations for website and online marketing products. You can also visit our website at mcwilliamsmedia.com and request a free consult. While you're there, take time to look through our portfolio, you might even find Gary Crews in there.
We are so thankful for the opportunity to partner with businesses like McWilliams Media, helping them implement business solutions that work for them.