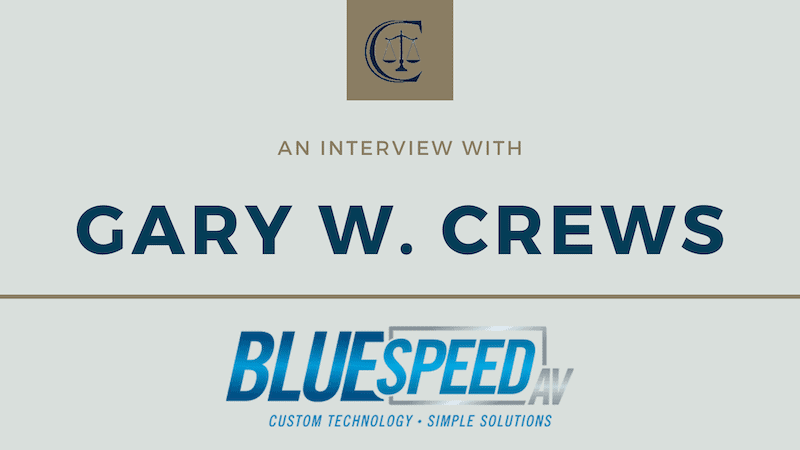 31 Jul

An Interview with Bluespeed AV

In today's blog post, Gary takes a minute to chat with local business owner, Ryan Sullivan. Ryan, owner of Bluespeed AV, shares how COVID-19 has impacted his business and provides us with incredible insight into how he continues to grow his business.  
Learn More About Bluespeed AV
Gary: Ryan, tell us a little about your company. 
Ryan: Bluespeed AV specializes in home and business automation through smart technology solutions.
Gary: Who would you say is your target audience?
Ryan: Our target audience is clients who are building a new home or planning a large remodel and want to incorporate the latest and greatest technology in their space.
Gary: How long have you been in business?
Ryan: We have been in business for 15 years.
Gary: What differentiates you from your competitors?
Ryan: What separates us from our competition is our people and our approach to implementing the technology that we use. The way we leverage technology and deploy our solutions are very different from our competition. We also care very much about the long term serviceability of the systems we install. Because of this, we design a solution that is remotely monitored and serviceable from our headquarters.
Gary: What has been the biggest impact of COVID-19 on your business?
Ryan: COVID-19 has honestly shined a light on the importance of home. More and more of our clients are investing in network systems and also the entertainment side of our solutions because everybody is spending so much of their time at home.
Gary: It's been said that smart people learn from their mistakes and wise people learn from the mistakes of others. What have you learned along the way and how can other entrepreneurs learn from your experience?
Ryan: The biggest lesson I have learned from my business is to always say yes to new opportunities as you start out. Opportunity is the biggest challenge of your business and saying yes and then figuring out how to deliver is how we have gotten to the point we are now. We went from installing Dish network in trailer parks to installing state of the art, concert level systems in casinos throughout the state. Had we said no to opportunities as they came we would still be putting up satellites.
The bigger part of this lesson is that I have learned to trust God, that he will create connections with people in the perfect timing of our capabilities and availability. Had we received certain opportunities too early, we would have flopped and probably went out of business.
Every great turning point in our business has always happened in an organic timeframe. This mindset has taken a huge chunk of the pressure of where our next big project is coming from. I truly believe and trust that opportunities come in the timeframes when we are ready to execute on it. Also being the dumbest guy in the room doesn't hurt… surround yourself with people that are great at life.
Gary: What has been most inspiring to you?
Ryan: I have a mentor in my life that has accomplished great success but has also been able to balance his life in a way that he didn't sacrifice everything in order to achieve success. In our business, I am around successful people every day and sometimes I get to see the hard costs it took for them to get where they are. So to see that you can be wildly successful but still be grounded is what inspires me.
Gary: How has our law firm helped you with implementing your business plan?
Ryan: Gary has always been a great advisor and friend through the years. I know that I can always come to him to help me strategize or solve a problem. He is always quick to respond and handle the issues that come up in our business.
Gary: Are you having any specials during this time?
Ryan: Bluespeed AV is launching a new division of our company called FixtheWifi. This business solves the Wi-Fi problems that so many people face, especially now that everything is done from home. Our pricing for setup is $499. After the system is installed, the cost is $99/month and we fix any Wi-Fi problems that arise.
It is really simple to install and you then have a company to call when you have technical problems with your network. We have been installing enterprise-grade networks in all of our systems and are now expanding our solutions to offer just the networking solution as a monthly service.
Gary: How can people contact you?
Ryan: You can find more information at www.bluespeedav.com or by calling our office at (918) 856-3547.
We are so thankful for the opportunity to partner with businesses like Bluespeed AV, helping them implement business solutions that work for them.