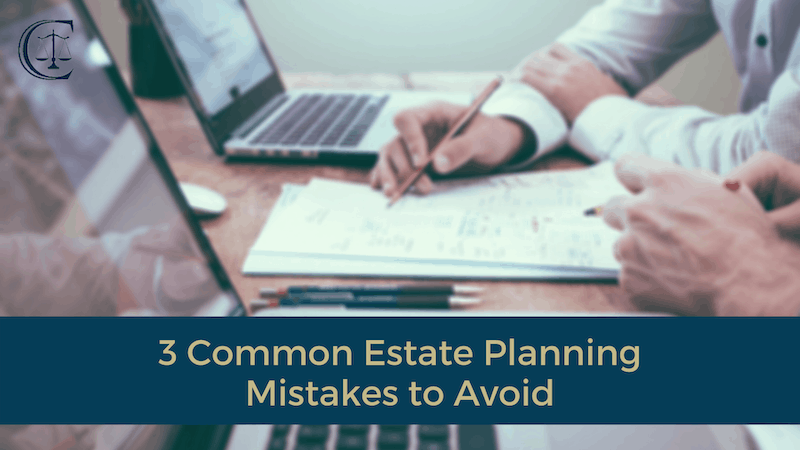 20 Nov

3 Common Estate Planning Mistakes to Avoid
Estate Planning Mistakes to Avoid
Estate planning is a complex process, not only for individuals with larger estates. As situations and circumstances change, it can be easy to overlook necessary updates to your estate plan. This is just one of the many common estate planning mistakes that we see people make regularly. Our team takes extraordinary efforts to help our clients avoid mistakes in the estate planning process.
An important part of avoiding mistakes in the estate planning process is educating yourself on common missteps taken by others. Here are a few of the most common estate planning mistakes to avoid:
Forgetting to Update the Estate Plan Periodically
There are many reasons why you should review and update your estate plan periodically. We recommend that our clients review the details of their estate plan yearly to check for any necessary updates. In fact, we send out an annual reminder to review and update your plan!
A few of the items you may need to update include your plan beneficiaries, asset ownership, powers of attorney, or other aspects of your estate. In addition to periodic reviews of your estate plan, you must contact your estate planning lawyer any time you experience a major life change.
Events such as a birth, death, marriage, divorce, or changes in your financial status require updates to your plan. We assist our clients in reviewing their estate plans, making sure they are not missing key information that belongs in the plan. 
Misunderstanding the Details of the Estate Plan
Unfortunately, some other attorneys do not take the time to explain the details of the estate plan to their clients. When this happens, individuals were unable to implement their estate plans as they did not understand the steps they needed to take to do so.
It is important to actively participate in the estate planning process, taking notes, and answering questions regarding the details of your plan. At Gary Crews Law, we are dedicated to taking the time necessary to answer each one of your questions, whether during the creation of your estate plan or several years down the road. 
Failing to Coordinate Retirement Plans With Trusts
There are many ways to set up your estate plan. Many individuals choose to designate their trusts as the beneficiary of their retirement plan. While this can be beneficial in some situations, it can also create issues with your taxes. 
If you choose to coordinate your retirement plan with your trust, you must ensure that you are using a trust that qualifies as a see-through trust. Without this important attention to detail, you will be unable to retain the important tax deferral of your retirement account.
Update Your Estate Plan Today!
We believe that every adult should have an estate plan in place. Whether you are needing to create your plan or in need of important updates, our team is ready to serve you! We diligently assess your needs and estate planning goals, establishing a plan that works for you. We prioritized educating our clients, involving them in every step of the process. In doing so, we eliminate the potential for many of the most common mistakes in estate planning.